About Analytics
Your data is trying to tell you something.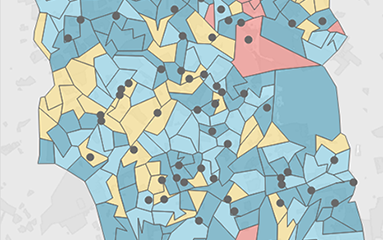 Something that could radically change the way you deliver your service. Something that could make your service more efficient and effective. Something that could change – even save – lives.
But without analytics expertise, your data is nothing more than a set of characters on a page.
Mayden Analytics is a new service that will unlock the information buried within your datasets, revealing valuable insights, patterns and anomalies that would otherwise simply be hidden.
Working with our team of experts will ensure that you don't just see, but truly understand your data, providing custom dashboards that let you look at your data from every angle, so you don't miss a thing.
Fast and economical. You simply can't afford not to.
---
Trapped within your data is an extraordinary amount of information that could help your service run both more efficiently and more effectively.
Leveraging the information within your data will allow you to learn from the past, identify trends and patterns in patient care, predict pathways, and shine a light on the ways that you can adjust your service to deliver better quality care at lower time and financial costs. In short, better understanding of your data amounts to better outcomes for your patients.
Mayden Analytics cuts through the figures and presents to you the simple truths behind the numbers using beautiful, clear, presentation-quality visuals.
Our team of analytics experts are on hand every working day to provide you with guidance and information. They'll build a dashboard tailored for your needs, which will allow you to keep an eye in real time over the aspects of your service that are most important to you.
Whenever you want further detail on a specific metric, or are interested in previously unexplored trends, you'll simply pick up the phone or send a quick email and our experts will create presentation-quality graphics and interactive tools and models for you to examine and to share in presentations and reports.
You can use the service to:
Improve effectiveness and increase efficiency
Predict patient pathways and respond to potential issues before they arise
Identify and respond to areas of low and high patient satisfaction
Improve administrative and financial performance
BENCHMARKING
Mayden Analytics also gives you the opportunity to go beyond the limits of your own data. Our vast library of look-up tables allows us to combine patient activity with population and demographic information, and other publicly available datasets.
With access to anonymous big data from multiple external sources we'll help you see your place within the global picture.
---
Mayden Analytics presents to you the simple truths behind the numbers, with clear, stunningly crafted, presentation-quality graphics that allow you to see your data from every angle.
From bubble charts, to maps, to interactive infographics, the service raises your visualisations beyond the standard mix of pie charts and graphs.
We'll even produce bespoke, interactive dashboards that allow you to take in a birds-eye view, and then drill down to show details.
Mayden Analytics visuals are created in Tableau, a leader in G2's recent rankings as well as in the Magic Quadrant for Business Intelligence and Analytics Platforms report 2015, and a world-leading premier business intelligence and data visualisation tool.
---
Mayden Analytics is fast. Really fast. It handles millions of records at once to produce real time, relevant results. The service is both more agile and more economical than hiring an internal analyst.
You'll be able to use Mayden Analytics in conjunction with any of your existing Mayden products, or as a stand-alone program to interpret any dataset.
Because you're working with Mayden, you can be certain your data is secure and in the hands of healthcare and analytics experts. Read more about our service here.
To get started, you'll simply share your data with our team of experts. We'll work with you to establish the best inroads to the information you seek. Soon after, you'll receive this information presented as stunning, presentation quality graphics that tell a clear story.
To benefit from the Mayden Analytics and find out just how affordable the service can be, simply get in touch.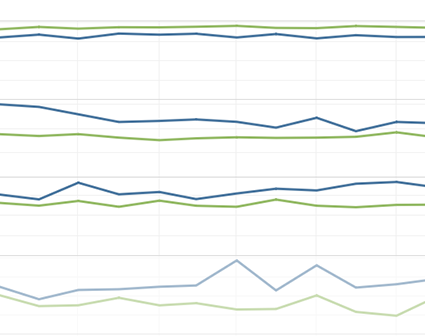 ---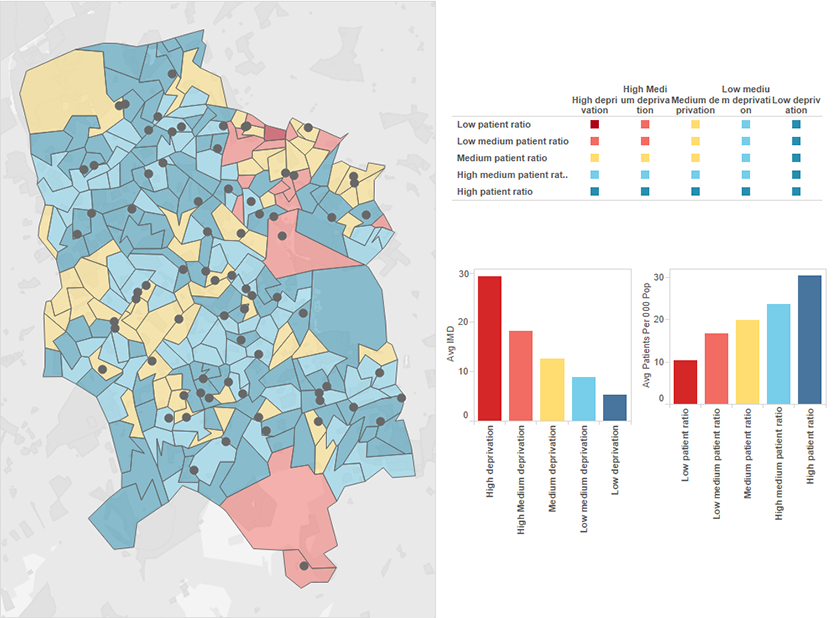 This map graphic indicates areas of potential unmet need in IAPT across LSOAs in a CCG. The red sections here represent areas of high deprivation with low levels of patient referrals. If deprivation is an indicator of need for the IAPT service, then these red areas indicate potential unmet need. GP practices within the CCG are shown as dots.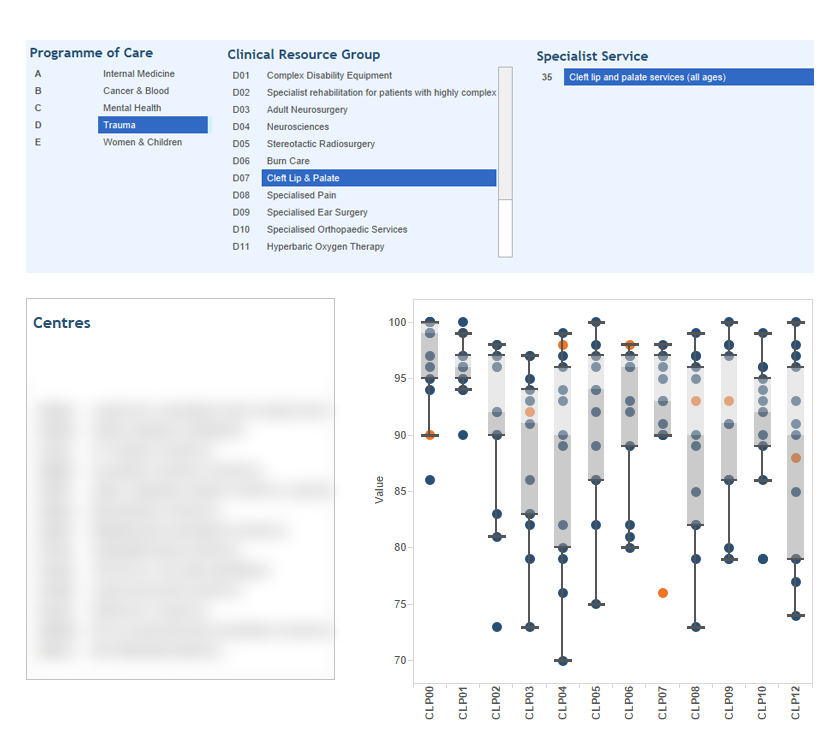 This is a prototype dashboard showing information on outcome measures at centres for specialist services. There are currently 144 specialist services which can be grouped into Clinical Resource Groups and Programmes of Care. The user selects a specialist service at the top and can then see in the bottom left a list of the centres providing that service in England and Wales.
The box and whisker plot in the bottom right compares outcome measures for centres of specialist services. Each dot represents the result for one centre for a particular outcome measure. The centre selected on the left will highlight in orange so the user can easily identify and compare results. The median, upper and lower percentiles shown by shaded boxes.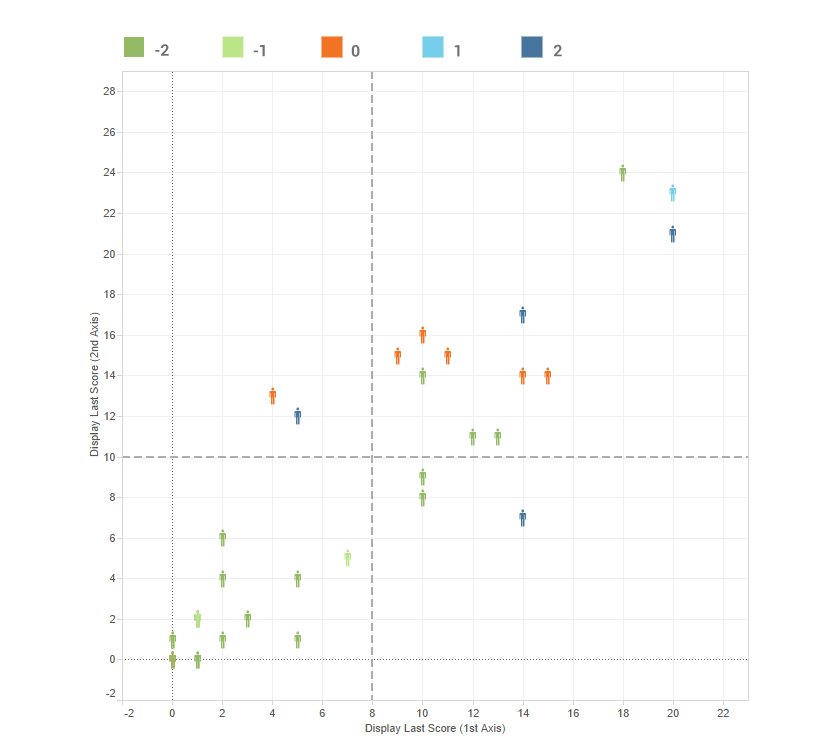 In this chart, each person icon represents an IAPT referral between 1st March, 2013 and 25th September, 2014. The position of the icon is based on the change in the patient's referral scores for their GAD7 and PHQ9 questionnaires.
The colour of the icon depends upon the movement of the scores during that referral, highlighting their progress or otherwise throughout treatment.
-2 (Dark green) means the patient's scores have improved for both questionnaires.
-1 (light green) is an improvement in one questionnaire only.
0 (orange) is no change in either questionnaire.
1 (light blue) is a worsening of scores in one questionnaire.
2 (dark blue) is a worsening of scores in both questionnaires.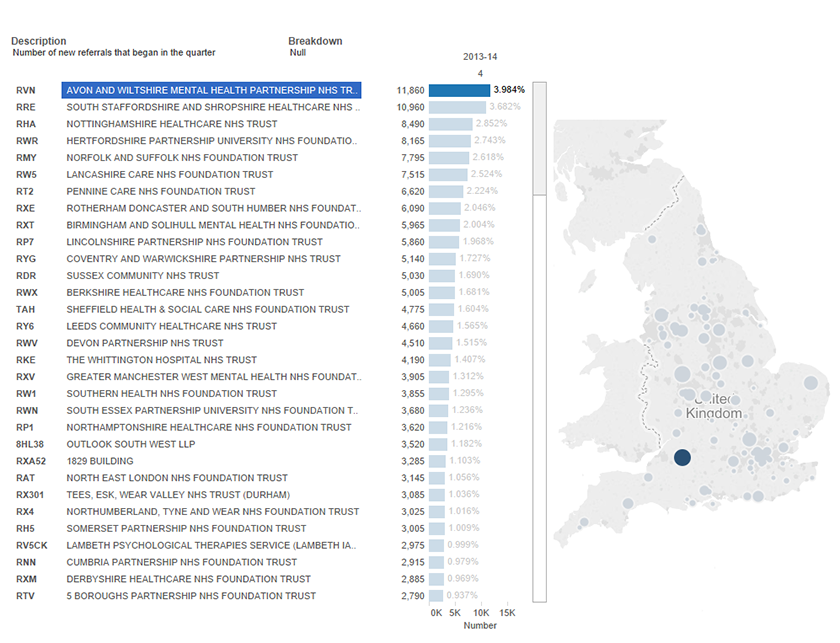 National IAPT MDS Returns
Select a description and breakdown to show the returns made by IAPT services to HSCIC (data source: http://www.hscic.gov.uk/article/2021/Website-Search?q=IAPT&go=Go&area=both). The user can highlight the service on the left to view its location on the map. The size of the dot reflects the number of records returned for the description selected.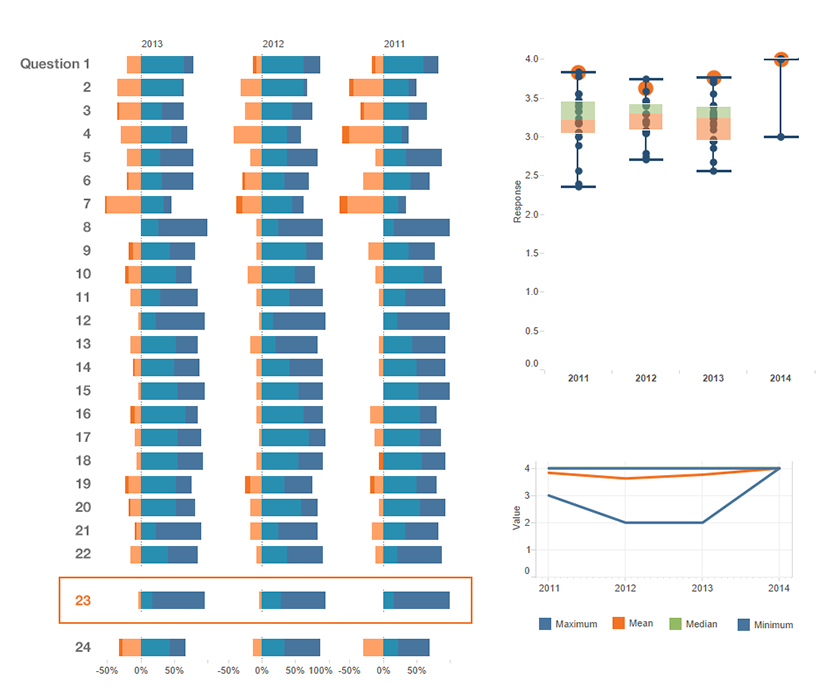 Mayden Staff Survey Results
Top left
: Box-and-whisker plots are a common statistical tool that depict the distribution of a set of data. There is a line at the median of the data (between the green and orange shades), a green box above and orange box below the median for the upper and lower quartiles (Q3 and Q1), and a set of 'whiskers' that extend to the extremes of the data, ie. the maximum and minimum response. The position of the statement highlighted on the previous chart (23) is shown as an orange dot on this chart.
Bottom left
: This chart shows the mean average, the maximum and minimum, and the median response to the statement "I am proud to work for Mayden?"
Right
: This chart shows the breakdown of responses to each statement in the survey and what proportion of them were scored favourably (3 or 4) and what proportion were not (1 and 2). As the responses are plotted on a positive and negative axis, it is easy to pick out which statements had a largely negative response or a highly positive response. In Tableau, you can click on each statement to view the responses in more detail. In this instance, 23 "I am proud to work for Mayden?" has been highlighted.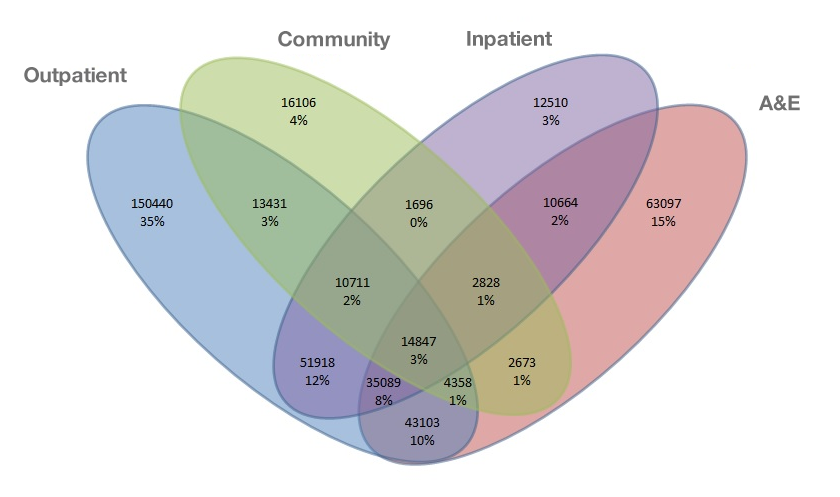 Venn Diagram of Patients and Their Interaction with Different Services
By analysing different datasets, this Venn diagram shows the number of patients and how they overlap between different services: inpatient, outpatient, A&E and Community.
Data Quality of IAPT Returns
This is a visualisation of the quality of data returned to HSCIC by Service Providers (data source: http://www.hscic.gov.uk/article/2021/Website-Search?q=IAPT&go=Go&area=both). The left hand bar chart shows the proportion of data for the 'Religion' field which are valid, missing, invalid, default or other. The bar on the right shows the quantity of data returned for that field. The visualisation allows the user to quickly pick out which providers have higher missing or invalid data and to investigate why that might be. Here at Mayden, we use these reports from the HSCIC to look at our IAPTus clients and make sure that the HSCIC are recording a high proportion as 'Valid' and if they don't, to investigate why that might be.
This chart shows the type of attendance for appointments where an SMS reminder text was sent to the patient in green, and appointments where an SMS was not sent to the patient, in blue. The analysis here helps to inform whether the Iaptus SMS add-on feature is having a positive effect on patient attendance. The figures on the right show the numbers and percentages for the last two months.