Take a look at our client case studies.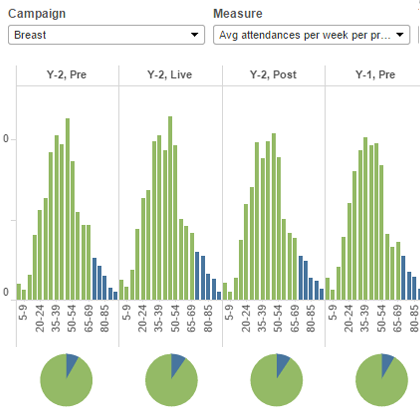 Be Clear on Cancer Campaigns
Early diagnosis plays a key role in outcomes for cancer patients.
The Department of Health has been running a series of regional and national TV campaigns to draw public attention to symptoms often linked with cancer in the hope of catching the disease in early stages.
Together with Public Health England, NHS IQ and Cancer Research UK, we have analysed millions of attendances across hundreds of GP practices to determine whether the campaigns are effective in encouraging people with the highlighted symptoms to seek advice from their GP.
We have constructed a series of Tableau dashboards to show the impact of the campaigns on demographics. We also compared the attendances during the campaign with areas outside the campaign regions, with attendances before and after the campaign, with activity from the same period in previous years, and with attendances for a set of unrelated control symptoms to produce a comprehensive study of the GP attendance data.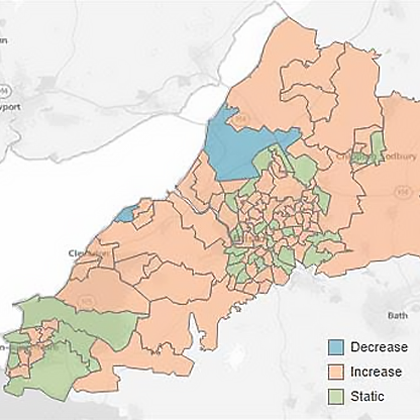 SWCSU Demand & Capacity Model
The dynamics involved in modelling activity across the range of health and social care providers is becoming ever more complex. The South West Commissioning Support Unit aspires to tackle this problem by developing a tool which predicts the impact on activity and capacity of a wide range of service initiatives.
To support the first phase of this work Mayden has constructed a prototype analytical platform which combines patient data from a range of sources including inpatient, outpatient, A&E and community datasets to produce a comprehensive picture of the composite profile of activity across Bristol, North Somerset and South Gloucestershire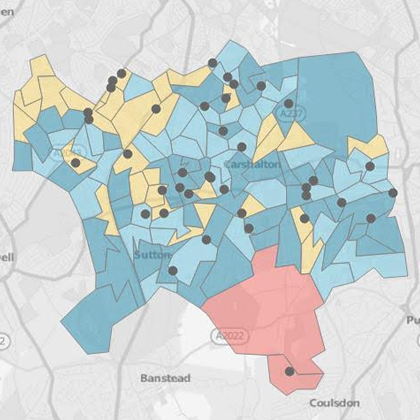 SW London Psychological Therapies Population Study
The client wished to develop a marketing strategy with one of the aims being to improve access to psychotherapy services in the area. Figures calculated by the client suggested that there are a high number of people with depression and anxiety who are not being referred by their GP and/or don't make self-referrals to the service.
To help the client understand some of the figures, Mayden undertook a mapping exercise using the client's IAPT data combined with ONS population and deprivation data. The exercise identified local areas where referrals were less than expected and whether GP or self-referrals were particularly low for these particular areas. Armed with this information, the client is able to target awareness campaigns towards GPs or the general public as required.
Data security is what we do.
Mayden has over 10 years' experience in dealing with and handling sensitive patient data and is trusted and accredited by the HSCIC to hold confidential NHS patient data on a secure network.
Data can be transferred to our network over N3, over the internet through our secure VPN gateway, or via NHS mail.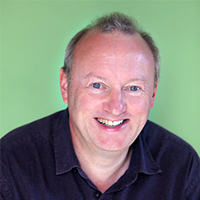 Chris M is the founder and managing director of Mayden. He has 21 years of experience in the healthcare industry, where he worked as a hospital manager and later as a management consultant specialising in information analysis and modelling.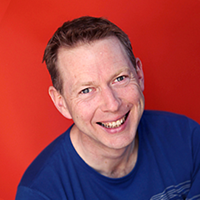 Chris E is Mayden's director of operations and has been with the company since 2009. He has a background in mechanical engineering, and studied at postgraduate level at Cambridge University.
"Mayden is driven by a mission of improving the patient experience, and Mayden Analytics boils that mission down to a single service. The future of healthcare relies upon an understanding of the present. Mayden Analytics allows services to take the data they have and look at it from every angle – to understand the efficiencies and effectiveness of their services as well as to identify areas for improvement. It empowers them to use that information to drive decisions and make positive change."
"Analytics competency is more important than ever and we're proud to be able to offer such a key service to our clients. Between our expertise and the incredible technology that Tableau offers, Mayden Analytics brings the capacity to radically change the way healthcare is provided and experienced today."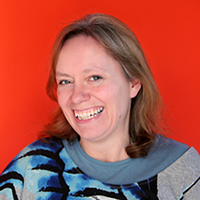 Coralie has a first class bachelors degree in cybernetics and control engineering as well as a masters degree in biomedical engineering. She has ten years' experience in IT and software development.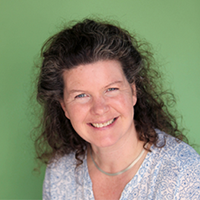 Juliette is our in-house Tableau specialist. She has 20 years experience in health analytics, and has worked for NHS Trusts, a leading health management consultancy as a freelance analyst.
"I collect your raw data and combine it into a format that makes reporting a faster and more productive process. I also identify the causes of any conflicts that occur when collecting the data from different sources and find ways to present that data in the most efficient format for our reporting tools."
"I take your data and work within Tableau to create simple, elegant, presentation-quality visualisations of highly complex results that reveal patterns and tell simple, clear stories which can truly make a difference to the way your services run. I'm especially interested in linking data from diverse sources to provide new insights that can change the way we understand healthcare services today."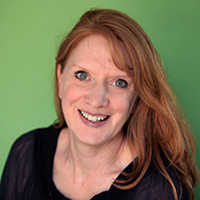 Alison is a director at Mayden and oversees organisational development, business development and marketing. Having started her working life as a graduate General Management Trainee in the NHS, she went on to hold a number of operational and strategic management positions in acute and community sectors before moving into management consultancy with one of the UK's leading specialist healthcare consultancy firms.
Ali has an in-depth knowledge of the NHS And clinical processes, as well as considerable project management experience.